recipes
I'm definitely nothing special in the kitchen. However I love preparing and cooking my own meals! As you can see, I don't have a professional camera and my culinary skills are average, but that doesn't stop me from trying new recipes and experimenting in the kitchen. Below are some of my favorites!
"you don't have to cook fancy or complicated masterpieces - just good food from fresh ingredients."
- Julia Child
Gluten-Free Blueberry Pancakes
How do elves eat their pancakes? -- In short stacks!
This is one of my favorite go-to recipes. I love coming home from my long run on the weekend and throwing this together. It's so nice because I can vary the recipe to make a little bit more if I'm hungry and as you can see, I like to change up the toppings! With a little practice you can also add chocolate chips, cinnamon, or walnuts - SO MANY POSSIBILITIES! Natural ingredients, super easy to make, and really good!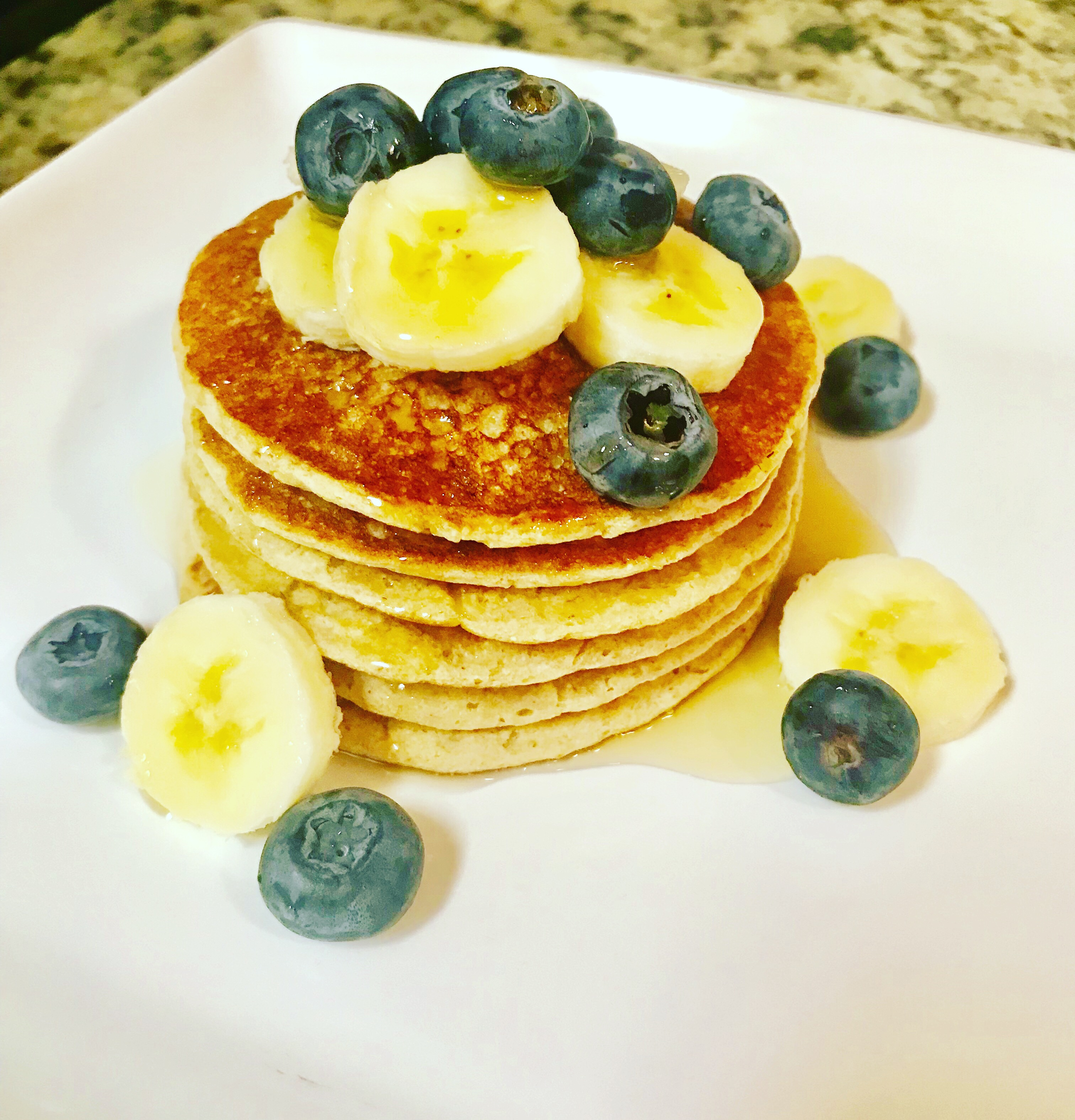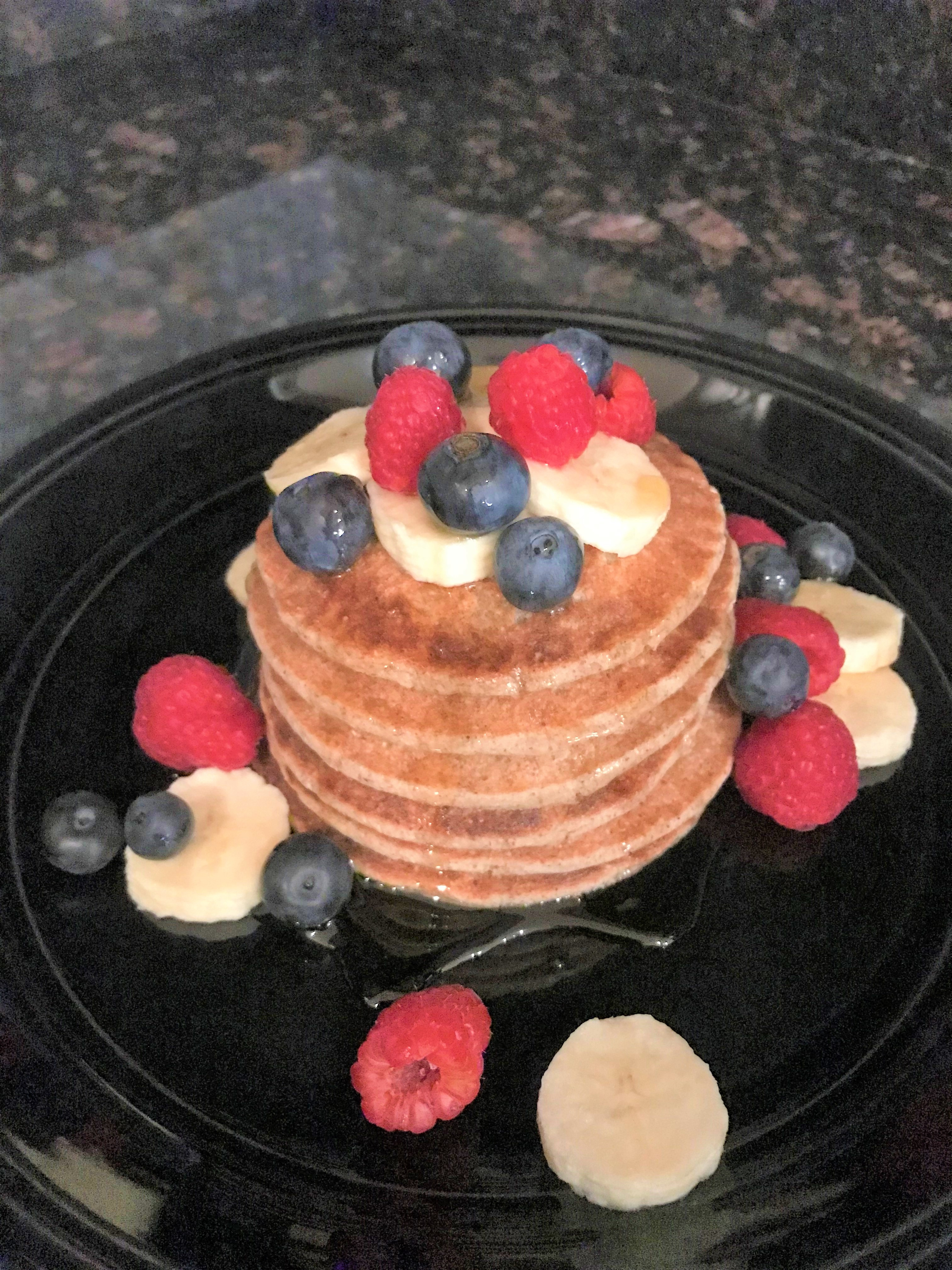 Pour the coconut milk in first. Whether you're using a vitamix (what I use), food processor, or egg beaters, this prevents the flour and oats from clumping up at the bottom.
Skip the dairy and use flax eggs. These can easily be made vegan and taste exactly the same! Use 2 tbl of water to 1 tbl of flaxseed meal. Mix well and let sit in the fridge for at least 15 minutes.
Use a nonstick griddle. To prevent these pancakes from sticking, I would recommend a nonstick griddle or frying pan. My griddle is a life-saver. So easy to make these, and so easy to clean!
Eat right away, or store them in the fridge for later. Very rarely do I have the discipline not to eat all of these, but when I do, these stay fresh in the refrigerator and are just as good the next day after you heat them up!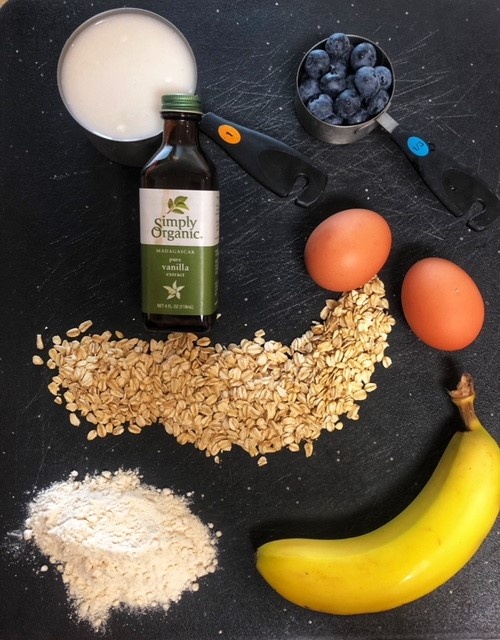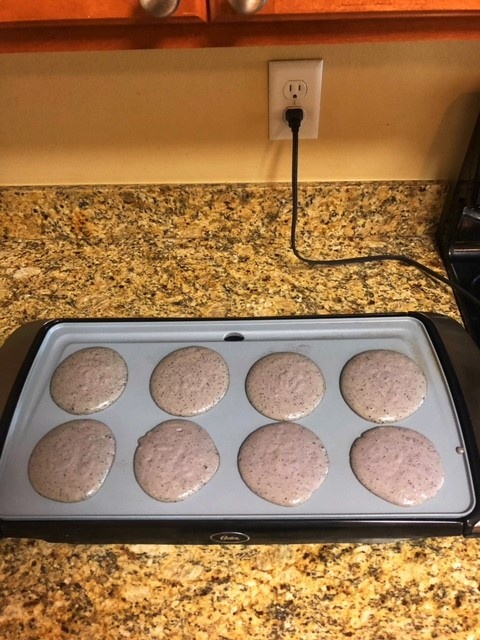 Ingredients:
1 cup coconut milk
1 cup oats
1/4 cup coconut flour
1/4 teaspoon baking soda
1/3 cup blueberries
1/4 teaspoon vanilla
1 teaspoon vinegar
2 eggs
1 banana
The toppings for these pancakes are endless! I'm all about either almond butter or peanut butter with some honey drizzled on top, and I also like to smash raspberries and make a natural jam or go full blueberry overload and sprinkle them on top with some bananas! Enjoy!!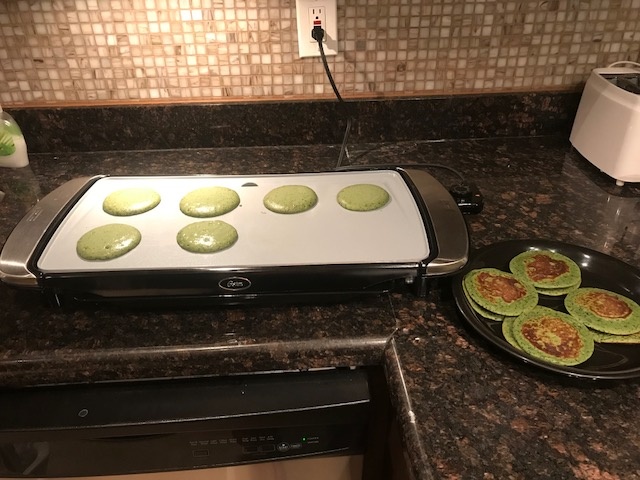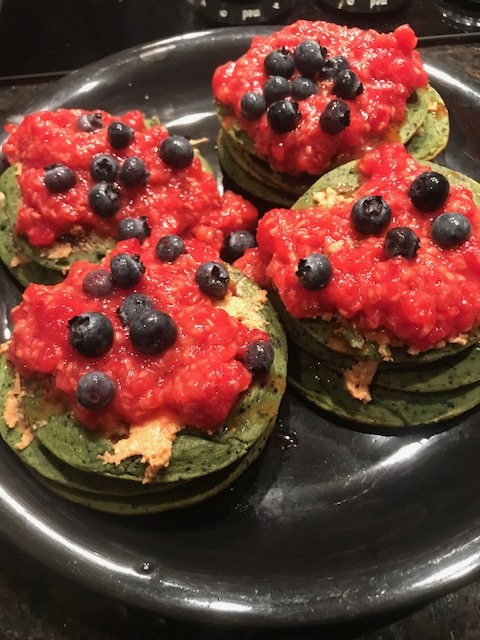 Add a handful of spinach and make spinach pancakes!!
-----------------------------------------------------------------------------------------------------------------------------------------------------------------


peanut butter and oat bites
Did you hear the joke about the peanut butter? -- I'm not telling you. You might spread it!
This recipe is so quick and easy it's nutty (okay, that was bad). The only problem with these is that I cannot stop eating them! These are great snacks to bring on a hike or a road trip, or they can substitute as a sweet desert without having to add a bunch of processed sugar! Five simple ingredients, these are fast and easy - who doesn't like fast and easy?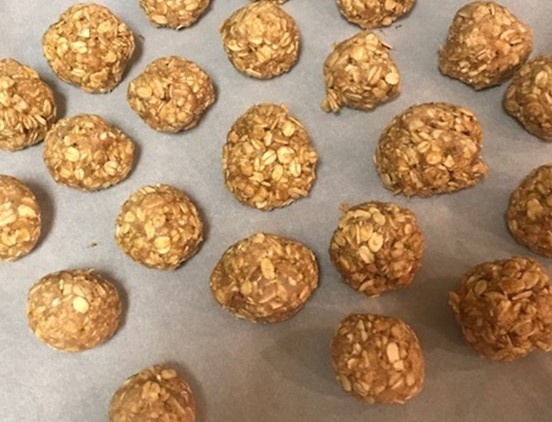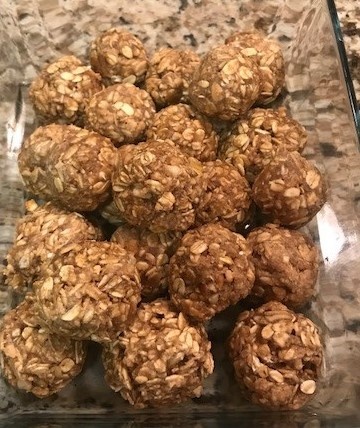 Be creative with the sweetener. I typically just use honey, but feel free to use coconut sugar, or sugar substitute, or a combination with the honey!
You're in charge of the size! Make smaller oat bites for kids, or larger ones for yourself.
Add chocolate frosting and make a cookie treat. Place 1-2 avocados and 1 tbl spoon cocoa powder to a food processor and mix together. Add honey and coconut sugar to taste and make cookie treats. Shhhh....your kids will have no idea that they are getting vitamins, healthy fats and fiber with each treat! See picture below!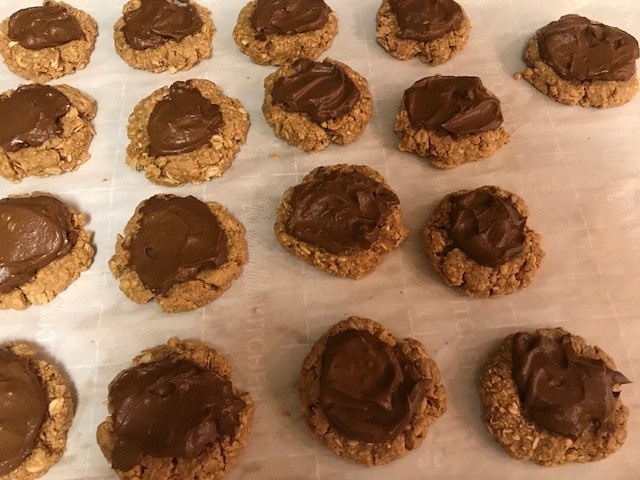 Ingredients:
1 cup peanut butter
2 eggs
2 teaspoon vanilla
2 cups oats
1/4 cup honey
Place in food processor and mix. Roll into balls and place on cookie sheet lined with parchment paper. Place in oven at 350° for 8 minutes.
-----------------------------------------------------------------------------------------------------------------------------------------------------------------


Bliss Balls
What did the walnut say to the peanut? -- Nothing. Nuts can't talk.
Like the peanut butter oat bites, these are really fast to make, and super good! I first saw bliss balls when I was in Australia and took note of the ingredients so that I could make them when I got home. These are also great snacks or can be used as healthy dessert after meals!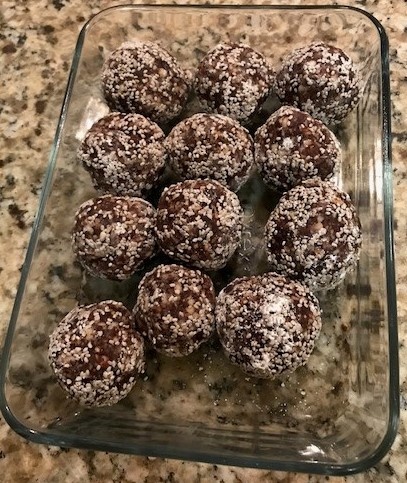 Create your own topping. I usually use white chia seeds (pictured), but I have also used coconut flakes. Get creative!
Add sweetener if desired. The dates add enough sweetness for me, but kids will love it if you add a little sweetness. In the photo pictured I mixed some white chia seeds with some confectioners sugar replacement and rolled the balls in that.
Ingredients:
1 cup almonds
1/2 cup walnuts
1 cup dates (pitted)
1/3 cup cocoa powder
1 teaspoon vanilla
1 tablespoon water
2 tablespoon chia seeds (white)
Grind almonds and walnuts in a food processor. Add other ingredients and blend until mixed and begins to stick together. Scrape into a bowl and begin rolling into bite-sized balls. Roll the sticky balls in your desired topping and serve!
You can also use a vitamix, but I've found it much easier to scrape the mixture out of the food processor.
-----------------------------------------------------------------------------------------------------------------------------------------------------------------
PERFECT PALEO COOKIES
What cookie makes you rich? -- A fortune cookie!
Who doesn't like cookies? So many fun recipes to experiment with. Marathawn Jawn athlete; Stacey, shared this paleo cookie recipe with me! This recipe is versatile and you can tweak it many different ways to suit your tastes.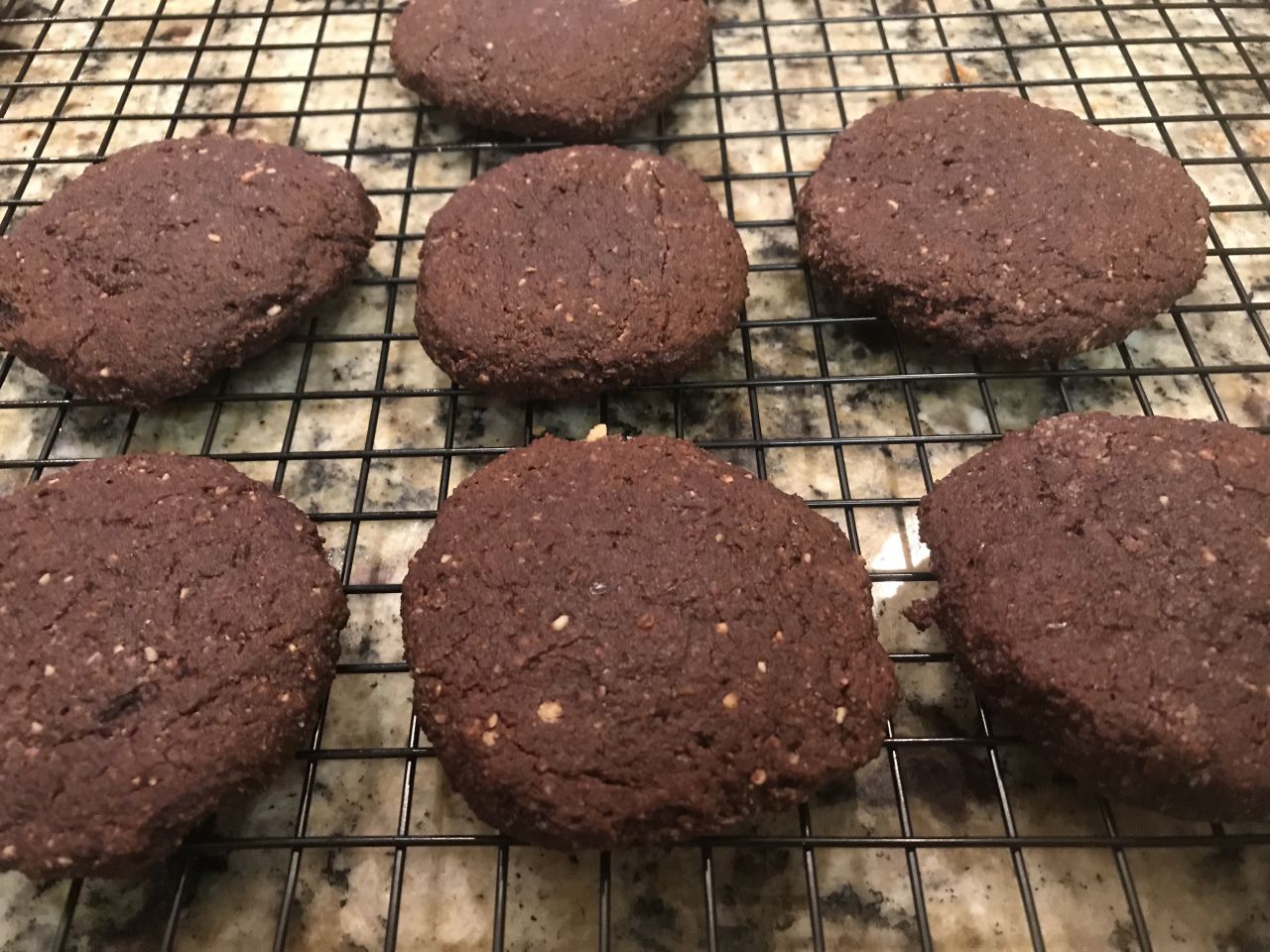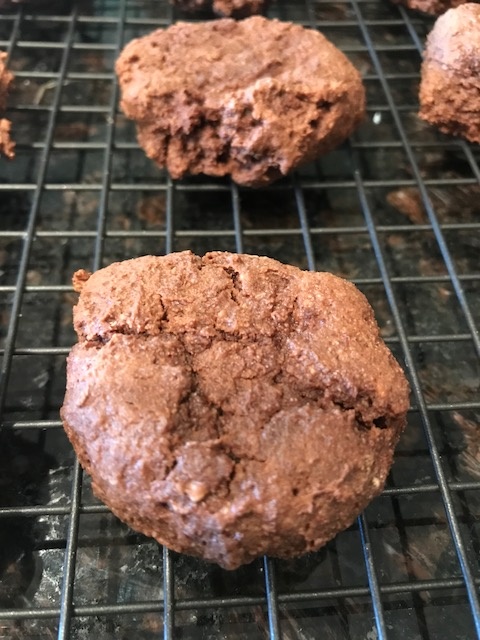 Make them vegan. Substitute flax eggs (2 tbl water, 1 tbl flaxseed meal). Mix well and let sit in the fridge for at least 15 minutes before you mix into batter.
Be creative. When I first made these, I only used about half of the honey that this recipe calls for. I felt like they could have used some more sweetener, so I used about 1/8 cup honey and 1/8 cup coconut sugar the next time I made these.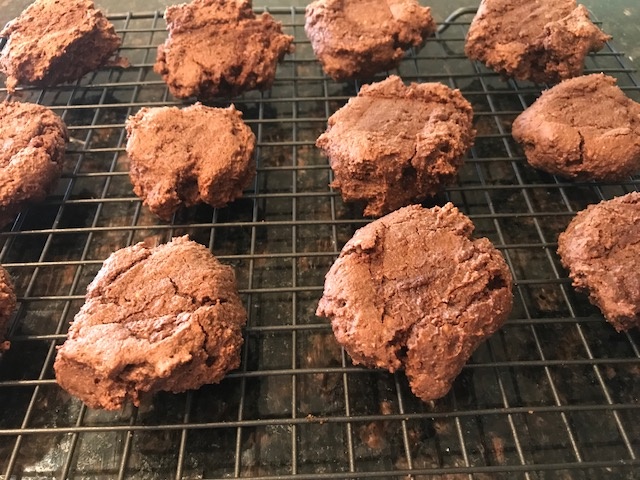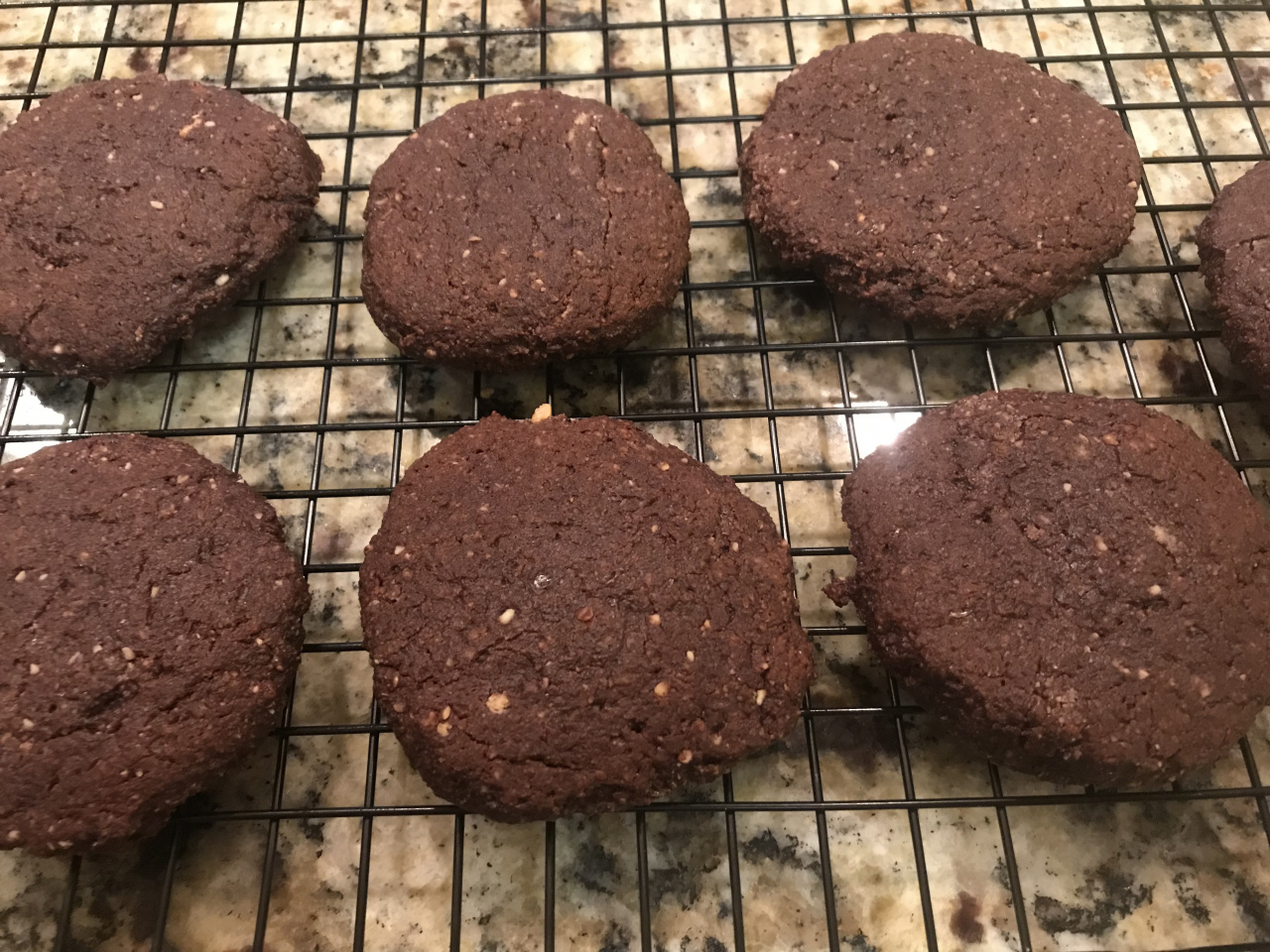 Ingredients:
1/3 cacao powder
1/2 cup almond flour
1/2 cup almond butter
1/4 cup raw honey
1 tsp. vanilla
2 eggs
1/2 tsp. sea salt
1/2 tsp. baking powder
Preheat oven to 350°. Line baking sheet with parchment paper.
Using a hand mixer combine all ingredients together and mix until smooth. Drop by spoonful onto the baking dish and bake for 8-10 minutes.
Allow to cool before eating.
-----------------------------------------------------------------------------------------------------------------------------------------------------------------
Chocolate Avocado Pudding
What's an avocado's favorite kind of exercise? - Avocardio!
This is a super simple healthy treat, that both kids and adults both love.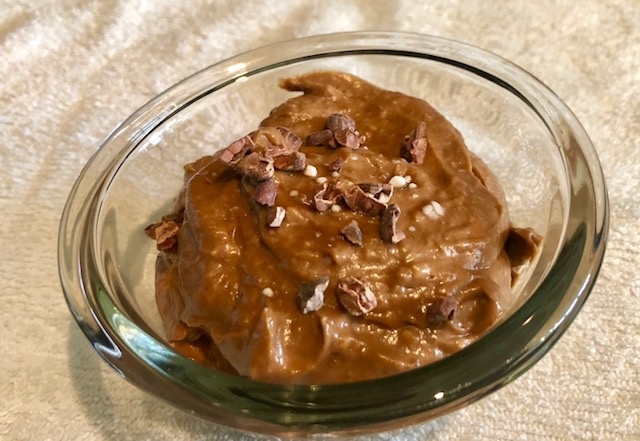 Ingredients:
1 avocado
1 banana
1 tbl. cacao powder
1 tsp. cinnamon
1 scoop chocolate protein powder
Use cinnamon to taste. The recipe calls for 1 teaspoon, but I usually just use 1/2 a tsp.
Add sweetener. For those that like things a little sweeter, you can add 1/4 tsp vanilla, 1/2 tsp of honey or coconut sugar to taste.
Scoop sizes vary. "1 scoop of protein powder" is pretty vague - I realize that. I use Sunwarrior Protein Classic Plant-Based protein. Each scoop is 20g of protein. Whichever type of protein you use (whey, soy), experiment with how much chocolate protein powder you want to use.
Top it off! I like to add chopped nuts and cacao nibs on the top before I eat it (pictured). Be creative - you can add strawberries, blueberries, or powdered sugar!
Mix ingredients in food processor. Chill in refrigerator and enjoy!
-----------------------------------------------------------------------------------------------------------------------------------------------------------------
Chocolate Peanut Butter Protein Bites
Why did the farmer buy a brown cow? - He wanted chocolate milk
Be careful with these little guys. They are the lays potato chips of protein bites - you can't eat just one!
Ingredients:
50g protein powder
1/4 cup coconut flour
1 tbl. cacao powder
1 tbl. chia seeds
3 dates; pitted
1/2 cup peanut butter
1/4 tsp stevia
4 tbl. coconut milk
1/4 dark chocolate bar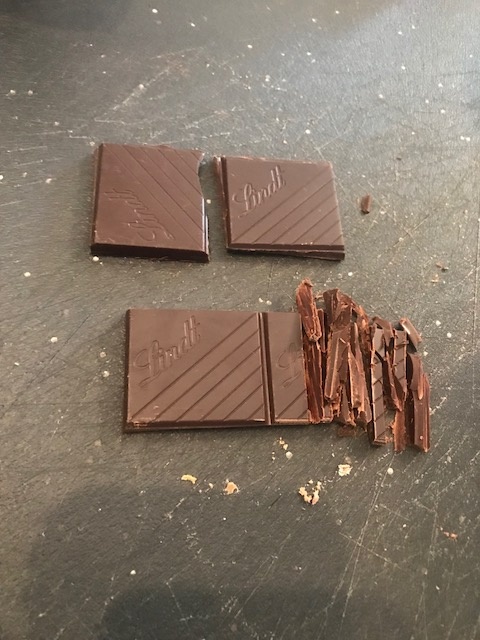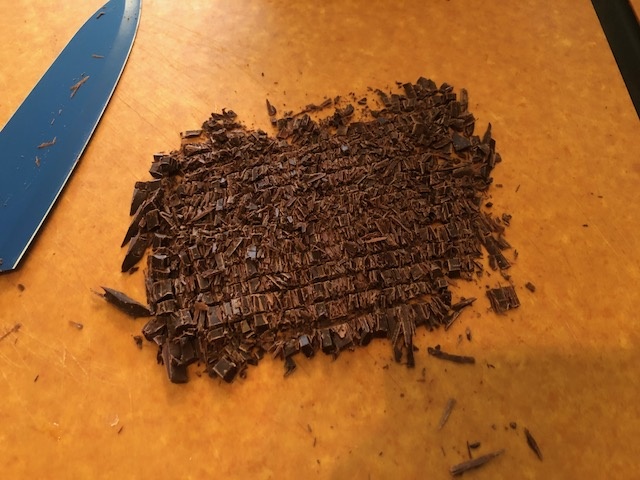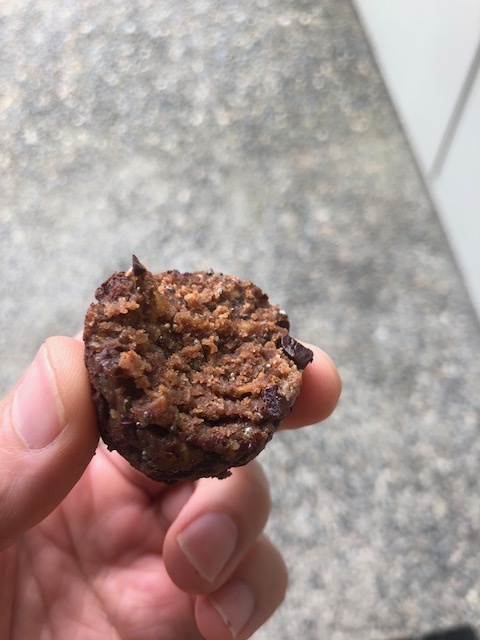 Scoop sizes vary. Like I mentioned earlier, measuring protein can be pretty vague. For this I usually just use about 1 scoop to a scoop and a half of Sunwarrior Protein Classic Plant-Based protein. Each scoop is 20g of protein. Whichever type of protein you use (whey, soy), experiment with how much chocolate protein powder you want to use.
No stevia? If you don't have stevia or do not want to use it. Feel free to sweeten these with coconut sugar or honey.
Can I use Almond Milk? Yes. Any type of nut milk will work. I usually use coconut milk, but almond or cashew milk will work great as well!
Chocolate bar. I usually purchase a dark chocolate bar that is 85% cacao.
Gluten-free pizza
Want to hear a joke about pizza? -- Never mind, it's too cheesy.

I love pizza. These days many pizza restaurants offer gluten-free crusts, but usually they only offer it in one size and it's massively overpriced! I've always loved making my own pizza ever since I learned in my 8th grade Home-Ec class (thanks Mrs. Dore)!
The way I learned was to make the crust and put it in the refrigerator for hours, if not overnight. Who has that kind of time - and patience? Not me.
This crust takes about 15 minutes to create and another 10 minutes in the oven and you're ready to add your sauce and toppings!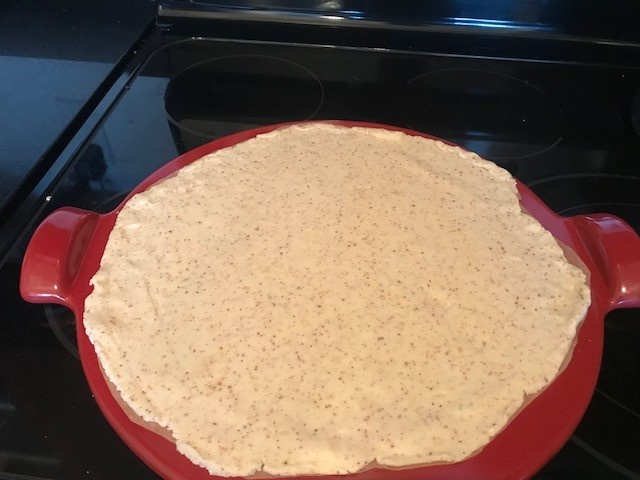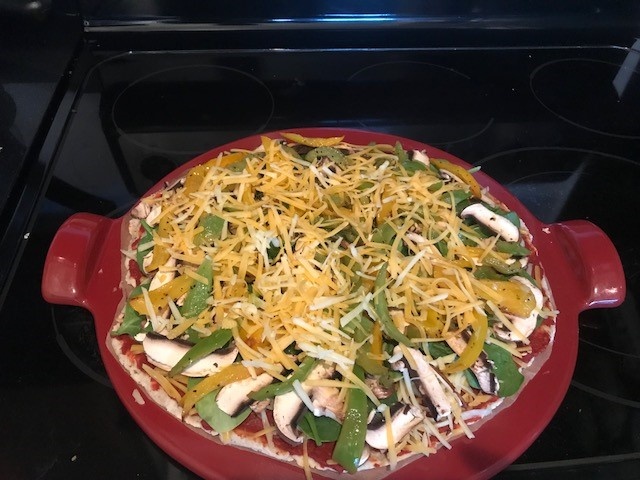 Cookie dough or pizza dough? Unlike traditional pizza dough, this is more like cookie dough. Often (actually every time) I don't use all the water/yeast/honey mix. Just mix the ingredients until you get a good balance between being too sticky and too dry! I use the olive oil on my hands and pizza roller when pressing the dough into the pan or stone.
Use parchment paper or a lot of olive oil on a non-stick pizza pan. I've learned the hard way enough times with this one. It's not fun having a delicious pizza fresh out of the oven being completely stuck to the pan or pizza stone!
If your gluten-free blend contains xanthan gum. Like Bob's Red Mill, scale the flaxseed meal or psyllium husk powder back to 1 teaspoon.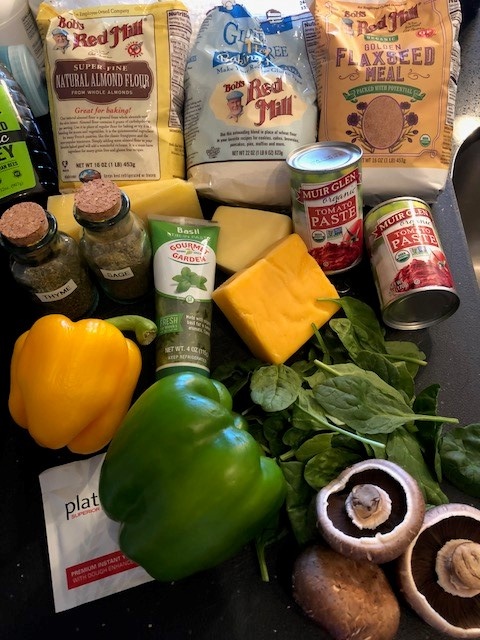 1 cup warm water, about 110°
1 tablespoon honey
1 1/2 teaspoons yeast
1 1/4 cups gluten-free all purpose flour
1/4 cup almond flour
1 teaspoon baking powder
3/4 teaspoon salt
1 tablespoon flaxseed meal (or) psyllium husk powder
* olive oil (for pressing or rolling dough)
Pizza Sauce
4 oz tomato paste
1 teaspoon thyme
1 teaspoon sage
basil stir-in paste (to taste)
lemon pepper (to taste)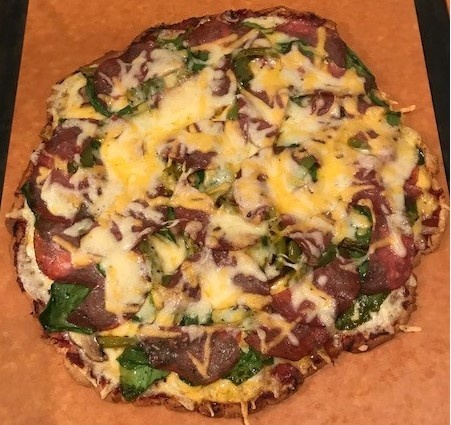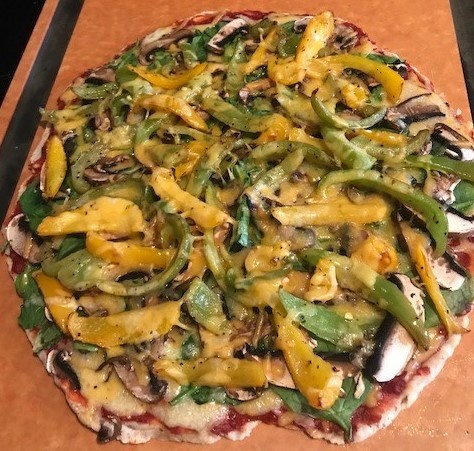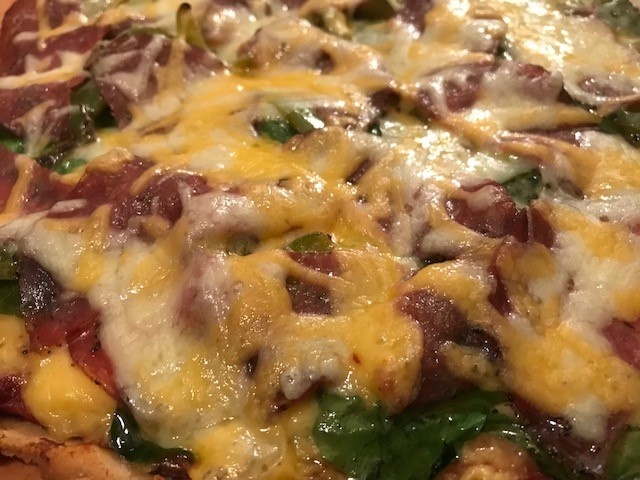 1. Combine the warm water, honey, and yeast in a glass measuring cup or bowl. Whisk to combine
2. Combine dry ingredients in bowl and sift together.
3. Slowly add the yeast mixture as you mix on low.
4. Cover the dough and let rise up to 30 minutes (I usually place it in a zip-lock bag with some olive oil...and full disclosure - I don't think I've ever made it 10 minutes before I press it to a pan and place in oven)!
5. Preheat oven to 425F. Use parchment paper or oiled pan and press the dough into pan with oiled hands / roller.
6. Bake for 10 minutes. Remove from oven and add your sauce and toppings.
7. Place back in oven for about 7-10 minutes depending on your toppings and how crisp you like your crust.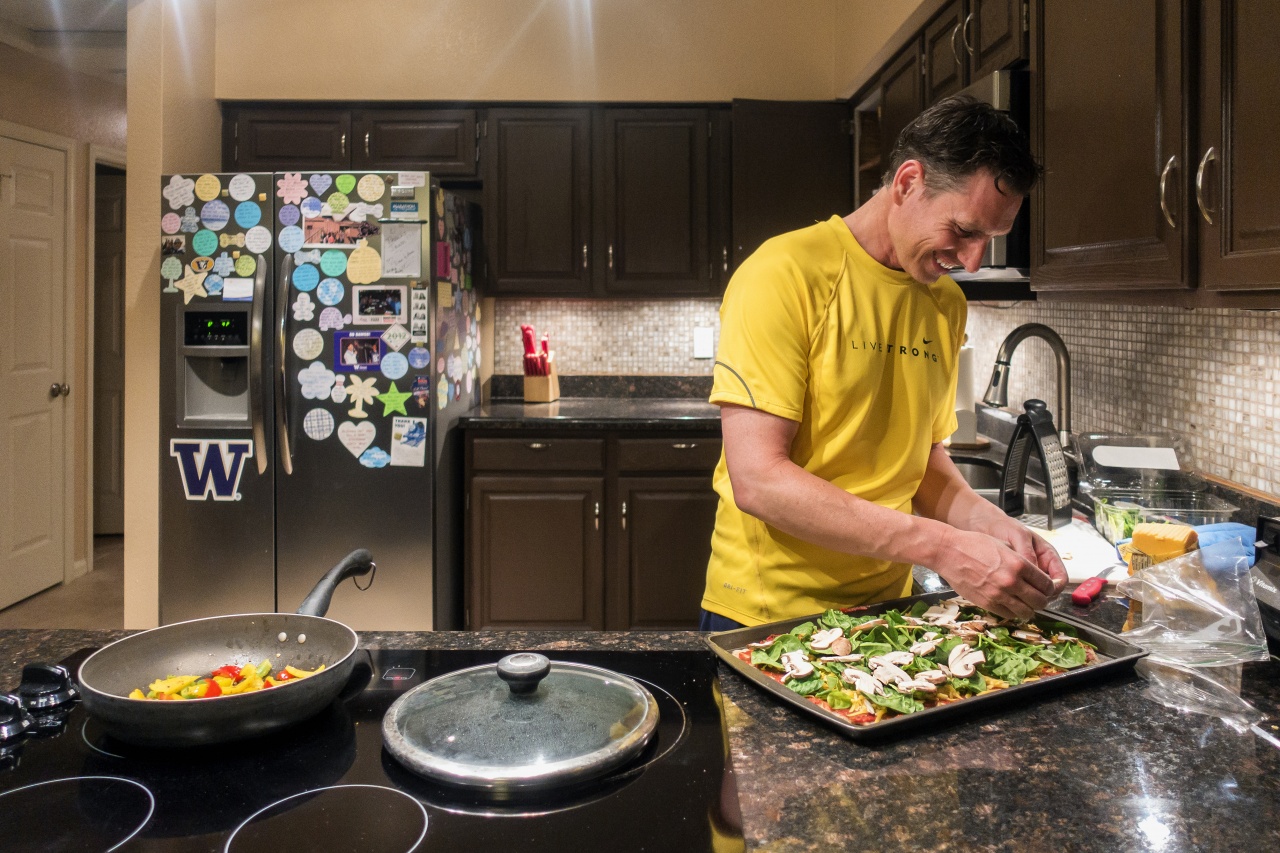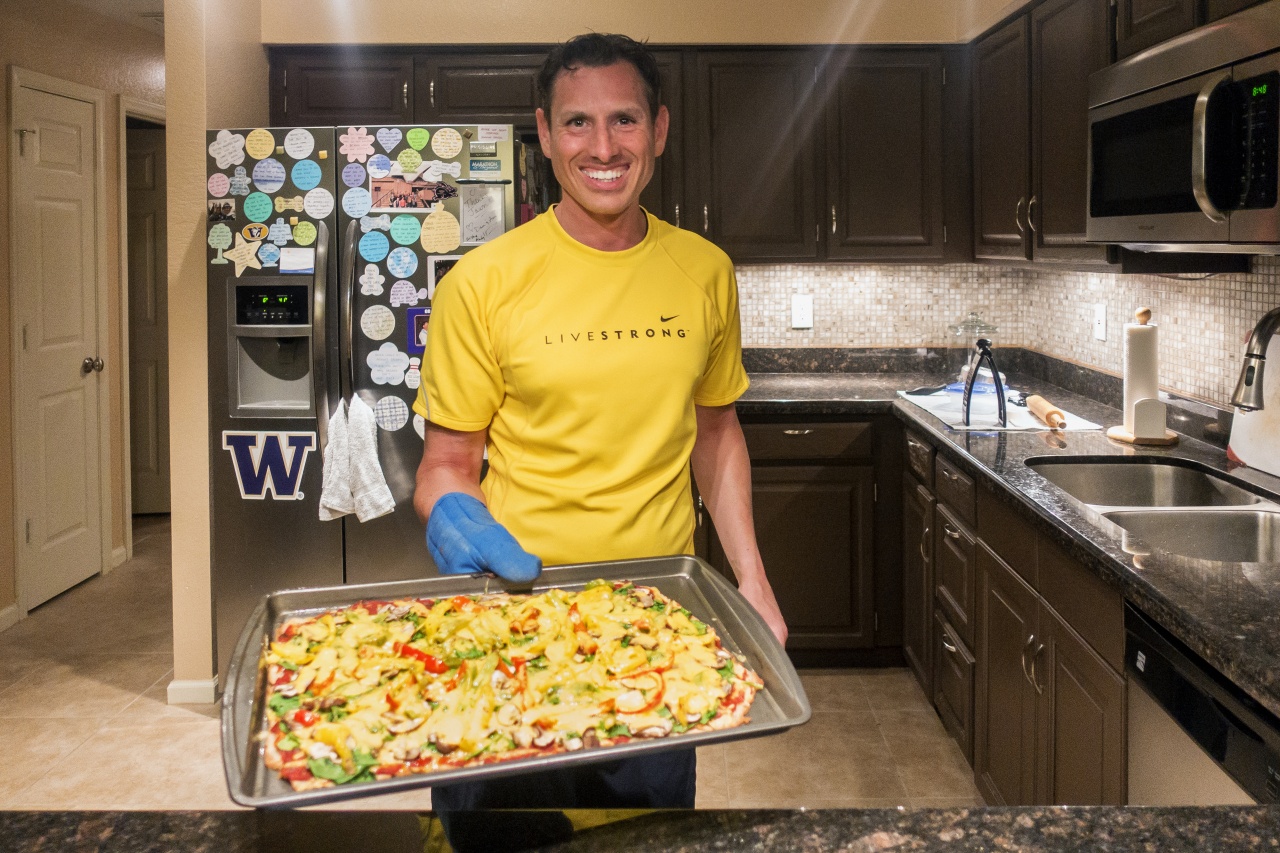 -----------------------------------------------------------------------------------------------------------------------------------------------------------------
PODCASTS
Podcasts are an entertaining way to learn about new products, new ideas, and listen to inspiring individuals. Below are some of my favorites. Please share some of your favorite podcast shows / episodes with me! jawn@marathawnjawn.com
FINDING MASTERY – CONVERSATIONS WITH MICHAEL GERVAIS
Dr. Gervais is a high-performance psychologist who is fascinated by how top athletes and other professionals use their mind to perform at the top of their game. He was part of a team that prepared American skydiver Luke Akins to jump out of a plane without a parachute, falling 25,000 feet to safety. And he is involved with numerous professional sports teams and athletes.
His podcasts dig deep into the core of an athlete's mental preparation and focus. However, his interviews are not solely based on professional athletes that accomplish amazing feats. With Seattle Seahawks Coach Pete Carroll, Gervais co-founded; Compete to Create, which is a digital platform business that works with large corporations to help their employees use a mental mindset training to succeed.
The Finding Mastery podcast brings you inside the minds of top professionals and gives you a sneak peek at the methods they use to succeed and how you can use these tools to improve your daily life.
THE RICH ROLL PODCAST - RICH ROLL
In 2012 I read Rich Roll's book; Finding Ultra: Rejecting Middle Age, Becoming One of the World's Fittest Men, and Discovering Myself. It was a fascinating story of how a Stanford & Cornell Law School graduate became a successful lawyer, but was burdened by alcoholism and an unhappy lifestyle so he transformed his life - finding sobriety, adopting a vegan diet, and becoming one of the best ultra-endurance athletes in the world.
I found his podcast in 2014, and I would recommend it to anybody. He covers everything. He sits down with athletes, nutritionists, anti-aging enthusiasts, rock musicians…you name it! Like Michael Gervais, he really focuses on finding the mastery behind what makes people tick and what their purpose is in this life.
MARATHON TRAINING ACADEMY - ANGIE AND TREVOR SPENCER
This podcast is all about running - specifically marathons and half marathons. It has been around for quite some time (around 2008 I believe). It is a husband and wife - Angie & Trevor. They bring a fun, social, and insightful vibe to running marathons.
They share the same passions as I (running a marathon in all 50 states) and they also have a website where they coach athletes. This is a fun podcast if you want to hear running and racing stories from like-minded individuals, yet also get insights and here the personal stories from top Olympic marathoners and industry leaders in the running world!
THE FORWARD - LANCE ARMSTRONG
Some people still regard Lance Armstrong in a negative light because of what he did many years ago. You don't have to forgive Lance for what he did or how he treated others, but you should know that he has publicly (and privately) stated how sorry he is to those that he hurt and he has moved on in a positive way (hence the name; The Forward).
This is not a podcast about cycling, in fact cycling is rarely even mentioned. Lance books guests from all different backgrounds; athletes, coaches, musicians, comedians, CEOs, authors, ex-prisoners and everything else in between. What I really like about this podcast is that Lance will constantly take himself out of his comfort zone and interview guests on many different subjects that he will admit he knows nothing about. Like Rich Roll, you can really feel the compassion and empathy that Lance has for many of his guests. This podcast can be entertaining, educational, and emotional as Lance unpeels the layers behind the stories of his guests. In a humble and raw approach, Lance really cares about putting together a quality podcast.
RUNNING FOR REAL - TINA MUIR
This is one of the first podcasts I began listening to many years ago. Tina is a professional runner from the UK that now resides with her husband in the states. This podcast focuses on the real issues about running. Little things that often get overlooked when we are so focused on improvement and running PRs. Things like listening to your body to avoid injuries, how to stay safe while you run, having balance in your life, and being vulnerable and honest with yourself.
Tina made a healthy impact on the running world in 2017 when she publicly announced she suffered from Amenorrhea and had not had her period in 7 years due to the demands of training. She decided to take a break from running and focus on other facets of her life - like starting a family! Tina and her husband Steve (also her running coach), gave birth to a healthy baby girl; Bailey in early 2018. I would highly recommend this podcast for any runner. Tina's genuine and friendly voice makes you feel like you're listening to a friend.
ENDURANCE PLANET – TAWNEE PRAZAK GIBSON
I have followed Tawnee through social media since around 2010, so I was happy to see when she decided to host a podcast. Tawnee talks with leaders in the health and fitness industry, debunking common myths and opening our eyes on topics such as how to manage stress, improve our health through nutrition and increase our fitness performance. Her "Ask The Coaches" episodes hosted by Brock & Lucho are fantastic! They take emailed questions from athletes like us, and answer them for everyone to hear. It's a great way to get professional answers to real world problems that we all encounter during our training!
This podcast is for the athlete who wants to take their training (and overall health) to the next level. It gives beginners a great foundation to learn about sports nutrition and it is a great resource for advanced athletes who want to learn about metabolic efficiency, how to properly train by heart rate, and how to avoid common mistakes like burnout.
-----------------------------------------------------------------------------------------------------------------------------------------------------------------


more info COMING SOON....